Concrete Pool Deck Leveling in Lewes, Berlin & Nearby
Quickly repair uneven concrete around your pool with PolyLevel®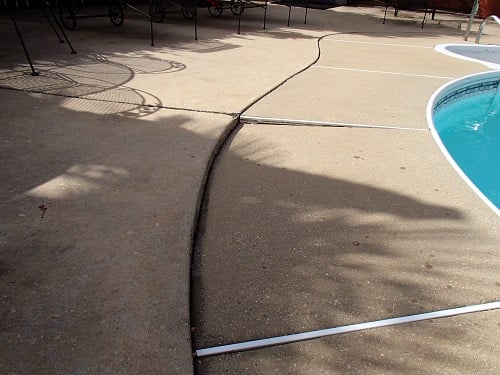 Sinking concrete around a pool is a common problem that creates tripping hazards.
Has the concrete surrounding your pool dipped or settled, creating a hazardous uneven surface? Is there a protruding concrete edge where one section of the slab has settled below another?
The foundation repair specialists at DryZone, LLC are especially well-equipped to make these types of pool deck repairs.
What's more, our innovative PolyLevel® concrete lifting and leveling technique is faster and more affordable than pool deck replacement. It's also a better option than pool deck resurfacing.
Contact DryZone, LLC to have your pool deck inspected today! We serve Lewes, Berlin, Easton and neighboring areas throughout Delaware & Maryland. Get a free estimate for pool deck lifting and repair.
---
Causes of a sinking concrete pool deck
Many concrete pool decks are prone to settling because of the pool construction process. The backfill soil that's added around the pool excavation will not be as dense or well-compacted as the undisturbed soil. When a heavy concrete slab is poured around the pool, loose soil will often compress under the slab's weight, causing sections of the concrete to sink or settle.
---
Concrete pool deck restoration with PolyLevel®
Some contractors still use the old-school repair for settled concrete. They use heavy equipment to demolish the cracked, settled sections of concrete around your swimming pool, and pour a new concrete deck. With concrete replacement you often get a damaged yard and a pool that's off limits until the new concrete hardens and cures. Our concrete leveling method saves you time and money, and won't disrupt your landscaping.
Injecting PolyLevel expanding foam beneath a settled pool deck will raise the concrete back to proper level and also strengthen the soil so that the problem won't recur.
---
Before and After
Before

After

When sinking slab puts your summer plans in peril, you know that you can call the DryZone Concrete team to help you rise to the occasion. Sinking slab had caused this homeowner trouble with their pool deck and PolyLevel was used to set the Concrete deck right again.

Before

After

This homeowner had invested a great deal into their outdoor entertainment area. A beautiful pool and outdoor kitchen framed by the detailed stamped concrete deck. You can imagine how disheartening it was for them when the pool deck started to sink at a precarious angle leading away from the pool. Thankfully, PolyLevel utilized by the professionals at DryZone saved this homeowner's outdoor entertaining and preserved the original stamped concrete detailing.

Before

After

Pool decks can get water damage any time of year. To keep your pool deck looking new, lift the sinking concrete slabs with PolyLevel.

Before

After

When repairing a pool deck, a waterproof solution is necessary. PolyLevel is a waterproof solution for lifting and leveling concrete slabs, including the slabs surrounding your swimming pool.

Before

After

This Queenstown home in Maryland has a beautiful pool that was not quite ready for the summer because of an undesired level in the concrete. DryZone repaired the pool deck with PolyLevel and now the homeowners are ready for some summer fun!
How PolyLevel® works to repair your settled pool deck
PolyLevel is a high-density expanding foam that our technicians can use to raise settled concrete. The two-part polyurethane foam mixture is injected through small holes drilled in the settled concrete. Our installers are trained to control the injection process so that just enough foam is used to re-level the concrete deck. Because the foam's expanding action fills voids in loose soil, this concrete leveling technique improves the soil's stability and load-bearing characteristics. You can feel confident that settlement won't occur again.
---
Get a quote to eliminate swimming pool trip hazards today
Worried that your sinking swimming pool deck might be a tripping hazard? DryZone, LLC has successfully raised and restored hundreds of pool decks in Lewes, Berlin, Easton, Middletown, Newark, Rehoboth Beach, Wilmington, Bear, Dover, Salisbury and throughout Delaware & Maryland. Contact us today! We can answer any questions you have about concrete leveling and provide you with a free estimate to repair your pool surround.
Looking for a price? Get a no cost, no obligation free estimate.