Mud Jacking Concrete Repair in Delmarva
Why PolyLevel® is a superior concrete leveling option compared to mud jacking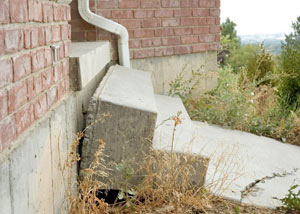 These concrete steps have suffered from severe settling over time and have separated from the foundation structure.
Mudjacking (also referred to as slabjacking, grout pumping, slab leveling, etc.) has been the common method used for lifting sinking concrete and is still widely used by contractors for concrete slab restoration. Mudjacking can be an effective solution, but in some cases may only be temporary. While mudjacking and polyurethane injection achieve similar results, the process and overall performance and lifespan of the two products are very different.
DryZone, LLC provide a superior concrete leveling alternative to mud jacking using the PolyLevel® system. PolyLevel provides a less invasive, longer lasting fill that will stabilize your concrete for years to come. If you're interested in concrete lifting and leveling for your home, call us today at 1-855-554-5001 or click below to get a free quote in Lewes, Berlin, Easton and nearby.
What is mudjacking?
Mudjacking uses a mixture of sand, water and cement which helps solidify the material. The mortar-based mixture, or "slurry," is pumped through large holes in the concrete using hydraulic pressure, which lifts the sunken slab.
While mudjacking is a common option for repair, there are several problems which make it a less desirable alternative. The mixture takes several days to cure before any weight can be placed on it. The mixture is very heavy, weighing an average of 100-150 lbs. per cubic foot and can add additional unwanted weight, potentially making the problem worse. While mudjacking is more affordable and less invasive than concrete replacement, the material can eventually erode and wash out, causing the slab to eventually settle again.
Benefits of polyurethane concrete leveling vs. mudjacking
Rather than using a mixture of concrete and mud, polyurethane concrete raising utilizes environmentally-safe polymer foam that is injected through penny-size holes in the concrete. Through a chemical reaction the high-density foam expands to stabilize the loose soils and lift the sunken concrete. After approximately 15 minutes, the polyurethane material is fully cured and can be driven on or walked on.
The polyurethane weighs only about 2 lbs. per cubic foot, which doesn't add any additional weight to the soil. Polyurethane foam is an inert, stable product that is made from 100% recycled materials. It is impervious to moisture and decay ensuring that your concrete repair will last. The expansive polymers allow lifting of heavier loads such as stoops and slab foundations.
Get a free estimate for PolyLevel® - the proven mudjacking alternative
At DryZone, LLC, we use the proven, engineered PolyLevel® System to stabilize and re-level foundation slabs and exterior concrete in Lewes, Berlin, Easton, Middletown, Newark, Rehoboth Beach, Wilmington, Bear, Dover, Salisbury and the surrounding areas. Call us today at 1-855-554-5001 or contact us online to get a free quote on our concrete lifting and leveling services.
Looking for a price? Get a no cost, no obligation free estimate.