Basement Waterproofing in Dover, Delaware & Salisbury, Ocean City, MD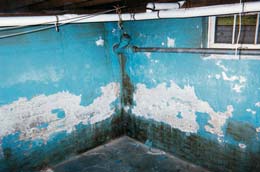 Before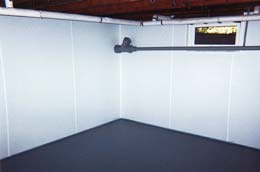 After
The professionals of Dry Zone utilize the award-winning WaterGuard® and DryTrak® basement waterproofing systems to dry wet basements in Delaware and along the eastern coast of Maryland.
We offer Free Estimates and Inspections in the greater Dover, Milford, Ocean City areas in Delaware, including the Maryland eastern shore including Worcester County to help home owners solve their wet basement woes.
Wet basements have been the source of great displeasure for homeowners for more than 100 years in Maryland & Delaware, with water leaking in through foundation wall cracks, basement floors, foundation wall floor joints and through basement windows.
Gradually, home improvement contractors, foundation contractors and basement specialists have developed a variety of methods and tricks to help keep basements dry.
Many of these work, but very few will work all the time or for very long. Dry Zone can help with proven solutions to keep your basement dry ALL THE TIME!
There are many possible solutions, including:
Exterior Excavation
Negative-side Sealant
Interior Subfloor
Interior Baseboard System
Exterior excavation requires extensive and damaging excavation of the entire perimeter of the house and the removal of steps, foliage, porches, gardens and anything else located around the house. If you ever need to perform maintenance on these pipes to unclog them, you will have to do all the digging again! And in a year, the soil will settle and need to be regraded...again. You will need to re-plant grass and other landscaping...again. You get the picture.
Negative-side sealing attempts to coat the inside wall of the basement with a 'waterproof' paint, coating, or sealant. This solution will generally work very well for about six months to two years (check the warranty), and then the product will begin to respond to hydrostatic pressure and will blister and peel, soon spalling from the wall completely.
Of these options, the basement waterproofing method that works most effectively is to either install an interior subfloor drainage system or a baseboard drainage system along the perimeter of the floor. There are a few challenges to this method:
Drains clogged by mud: Many homeowners may enjoy a dry basement for years before a water problem develops and the existing sub-floor and sub-surface drains clogging with mud.
Large unsightly gaps: Many subfloor drainage systems are set up to accept water from the walls by allowing a large open ditch to run around the edge of the floor. This fills with dirt and debris from the floor, which can easily clog the drain and possibly the sump pump.
DryZone LLC uses the patented WaterGuard® perimeter drainage system with a Zoeller sump pump system to meet the challenge of effectively keeping your basement dry... permanently. If you live in Salisbury, Dagsboro, Oxford, Middletown, New Castle County, Lewes, Fishing Bay, Dover or the surrounding areas, we would love to talk to you!
Sign up for a free inspection and estimate in Dover or Salisbury today!
For Basement Waterproofing in Delaware, we service the following areas: Ocean View, Delmar, Lincoln, Frankford, Dover, Lewes, Dagsboro, Milford, New Castle, Seaford, Bear, Felton, Hockessin, Fenwick Island, Bethany Beach, Rehoboth Beach DE and surrounding areas.
For Basement Waterproofing in Maryland, we service the following areas: Oxford, Madison, Bishopville, Queen Anne, Cordova, Easton, Greensboro, Linkwood, Sharptown, Berlin, Westover, Stockton, Ocean City, Parkville, Ewell, Ridgely, Denton, Quantico, Parsonsburg, St. Martin, Lawsonia, Pocomoke City, Princess Anne, Federalsburg, Trappe Landing, Ocean Pines MD and surrounding areas.
Looking for a price? Get a no cost, no obligation free estimate.