Quality Electrical Services from DE & MD's Expert Electrician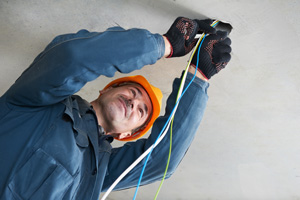 Safe & sound. Answer all your electrical needs with a single phone call. DryZone, LLC will help you evaluate your options for repairs, upgrades and replacement work to make sure you get the best performance and value.
Respected electrical repairs, installations, and upgrades
DryZone, LLC is a licensed electrician specializing in electrical installation and repairs.
It's easy to take electricity for granted. Most of the time, it's always available when we need it. But when something goes wrong with a home's electrical system, the effect can be devastating. A heating system can shut down, water can stop flowing and appliances can stop working.
Does your home need a good electrician?
Sooner or later, it's really important to have an electrical contractor you can count on for speedy, reliable service. DryZone, LLC is ready to earn your business. Whether you need a ceiling fan installed, a water pump replaced or new wiring for a home addition or new construction, our technicians have the training, tools and motivation to do excellent work for a fair price.
Contact us for reliable electrical services
Get a FREE Estimate
We provide free estimates for all electrical work in Severna Park, Crofton, Parkville and nearby. Contact us today!
Residential and commercial electrical services in Delaware & Maryland that you can trust
We provide both interior electrical services, as well as exterior electrical for residential and commercial buildings in Delmarva. Some of the solutions we offer include:
Repair, troubleshooting, and maintenance of all electrical systems
Interior and exterior electrical work
Electrical safety inspections
Upgrades & repairs for code compliance
Service upgrades & sub-panel installation
Lighting
Sump pump & water pump replacement
Energy-saving upgrades
Home generator systems
Home office & home entertainment center wiring
Complete wiring for new additions, attic conversions & basement remodeling
DryZone, LLC is Delmarva's full-service electrician. We provide free estimates for electrical upgrades and improvements, and custom lighting and energy-saving solutions. You can reach us by phone at 1-855-554-5001 or contact us online for an appointment.
Looking for a price? Get a no cost, no obligation free estimate.